The Burlington Racetrack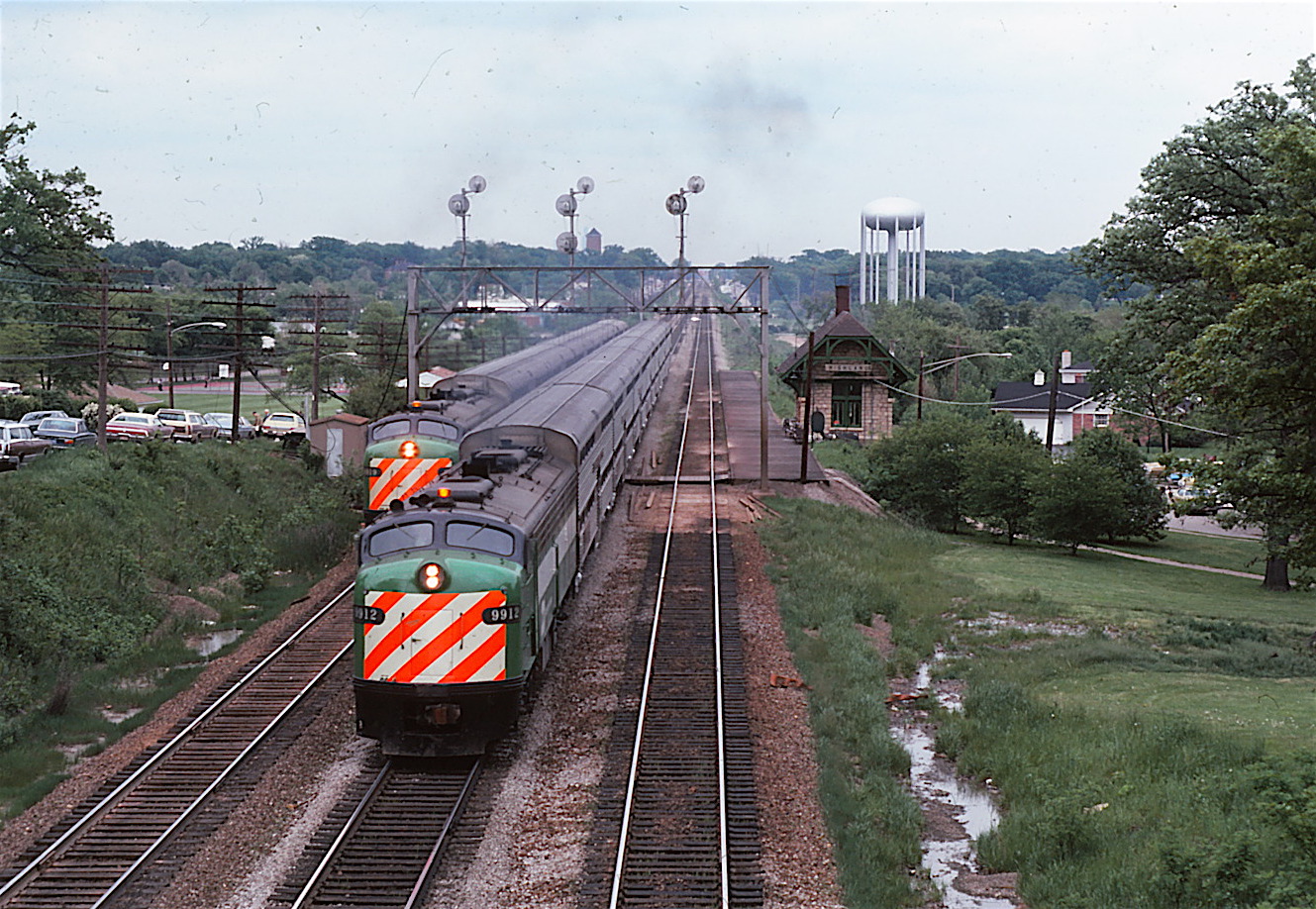 Chicago Burlington & Quincy fully dieselized the three-track commuter main between suburban Aurora and the Windy City in September 1959. For close to six decades, funding, management and operation of the "tripple-threat" corridor has been provided by several different railroads and/or public agencies: CB&Q, Burlington Northern (1970), West Suburban Mass Transit District (1972), Regional Transit Authority (1974), and the present day Metra (1984). This webpage attempts to depict the evolution in commuter motive power that has occurred during those decades. (R. Craig photo)
--
XXXXXXXXXXXXXX A Photo Review
Chicagoland's Triple-Track Commuter Main

click on image to enlarge

CB&Q E8A #9939A (silver w/ black stripes)

Robby Gragg photo

CB&Q E8A #9948 & 9971 (silver w/ red stripes)

Larry Sallee photo

BN E8A #9989 (silver w/ black nose stripes)

R. Craig photo

BN E8A #9984 (silver w/ b&w nose stripes)

R. Craig photo

BN E8A #9950 (silver w/o nose stripes)

Paul Hunnel photo / R. Craig Collection

BN E9A #9990 (silver w/ green cab)

R. Craig photo

BN E8A #9940 (green & white)

R. Craig photo

WSMTD E9Am #9923 (green & white)

R. Craig photo

Metra F40PH-2 #112 (blue & red)

Robby Gragg photo

Metra F40PH-2M #186 (blue & red)

Robby Gragg photo

Metra F40PH-2 #183 (new scheme)

Robby Gragg photo
XXXXXXXXXXXXXXNotes
Format by: R.Craig
New: 28 May 2017
Reference sources: Burlington Northern Motive Power Annuals (1971 and 1972).

Updates provided by: R. Craig, P. Denny Custer, Robby Gragg, Lloyd Judd, and Ray Sabo.

Thanks also to Michael Richmond who was very helpful in identifying and gaining permission to use several of the photos.