---
---
The Bicentennial & The Railroads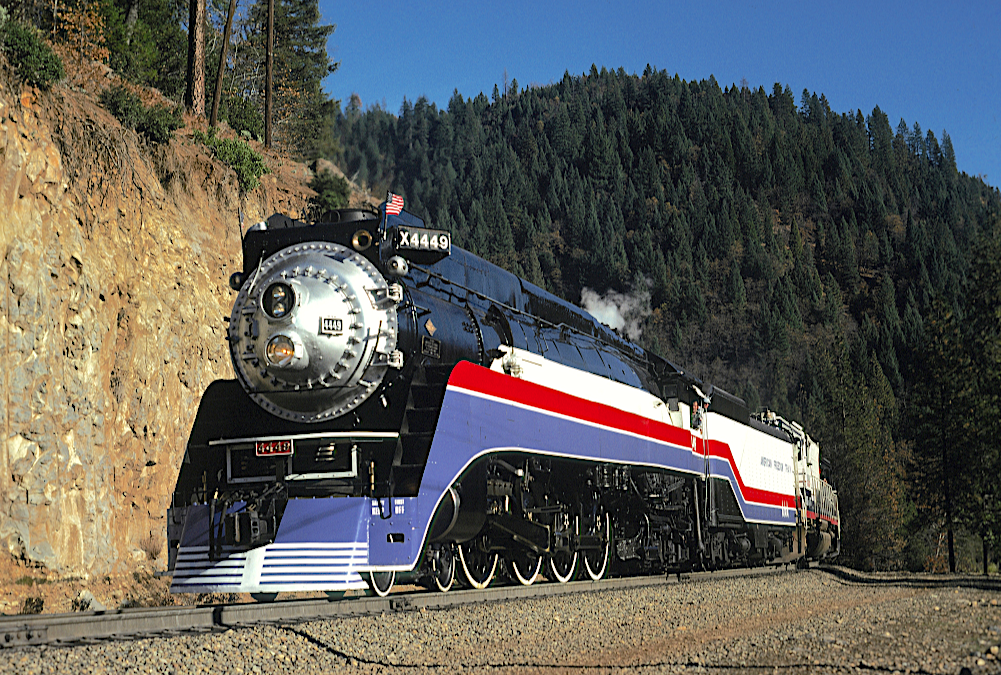 Drew Jacksich photo at Soda Springs on Donner Pass
In the years leading up to the United States' 200th anniversary, the railroad industry had been gearing up to play a major role in the approaching Bicentennial. The singlest biggest event of the multi-year celebration was the American Freedom Train (AFT), and the railroads were ready to be active participants in the planning. There were rail routes to evaluate, facilities to assess, equipment to gather, modifications and fit-ups to coordinate, and support systems to make ready.

In addition to the AFT of 1975/76, there was a second lesser known train called the Preamble Express. It's purpose was to explore in 1974 the proposed Freedom Train route and determine feasibility and facility requirements. Two custom-painted diesels were selected to haul the Preamble train:
Delaware & Hudson U23B #2312 had the honor in the eastern U.S. and part of the midwest
Union Pacific E9A #951 was on point the remainder of the preamble's tour
The American Freedom Train, which departed the Eastern U.S. in the Spring of 1975 was led by steam-driven locomotives for most of the AFT tour. The steam engines had been carefully selected for the duty, and they included:
Ex-Reading 4-8-4 #2101
Texas & Pacific 2-10-4 #610
Southern Pacific 4-8-4 #4449.
The AFT's tour last 21 months and visited all 48 contiguous states.

Uploaded: 6 January 2019
XXXXXXXXXXXXXX A Photo Essay
---

---

Photo Links

American Freedom Train #1

Doug Lilly photo

American Freedom Train #610

Joe McMillan photo

American Freedom Train #4449

Craig Walker photo

Delaware & Hudson #2312

Ray Sabo photo

Americn Freedom Train Notes:

Train departed Wilmington, Delaware on 1 April 1975
Train Consist: 14 Exhibit/Showcase cars plus 12 support cars.
Final stop Miami, Florida 26-31 December 1976

Union Pacific #951

Bill Johnson photo

---

---