Kansas City Southern's streamlined "Southern Belle" passenger train departed Kansas City for Baton Rouge, Louisiana for the very first time on 9 September 1940, and it rolled right into railroad history. With the aid of a major advertising and publicity campaign, the train soon became a national icon and passenger traffic on the railroad skyrocketed. From that September day forward, the Southern Belle was typically powered by EMD-built E3As and E7As, as well as steam-generator equipped F3s. Beyond having the same EMD builder, all of the locomotives wore an attractive red/yellow/brunswick green color combination. KCS freight locomotives of the period wore a slightly modified version of the Belle colors, with black instead of brunswick green.
Huge changes in the way Americans travelled led to the demise of the Southern Belle in 1969; it also signalled the end of KCS diesels in Belle motif. Actually, KCS had discontinued painting freight cabs in the popular tri-color scheme as early as 1955; the move was aimed at reducing company operating expense.
So here is a unique opportunity to briefly visit KCS's four-decade-long transition back to its colorful heritge.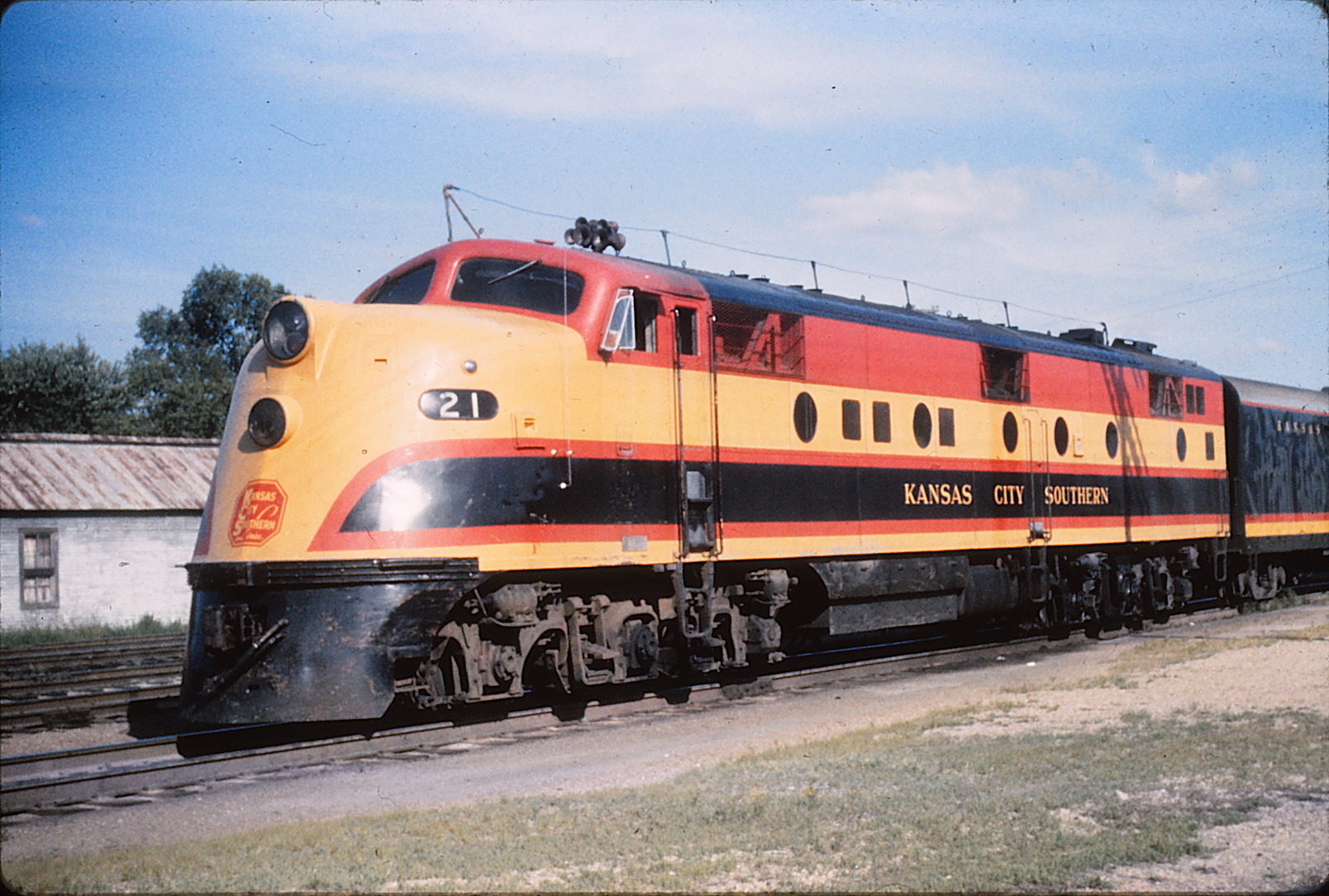 XXX
There is no question that KCS passenger and freight motors have worn a lot of different colors and scheme variations since the railroad first employed diesel locomotives in mainline service. The fist locomotives to sport the "Southern Belle" scheme were sleek new E3As of 1940 -- (KCS EMD E3A #21, photographer unknown, R.R. "Dick" Wallin collection). The railroad's freight cabs featured red/yellow/black colors, but in a modified format -- (KCS EMD F3A #34, photo by Wade Harris).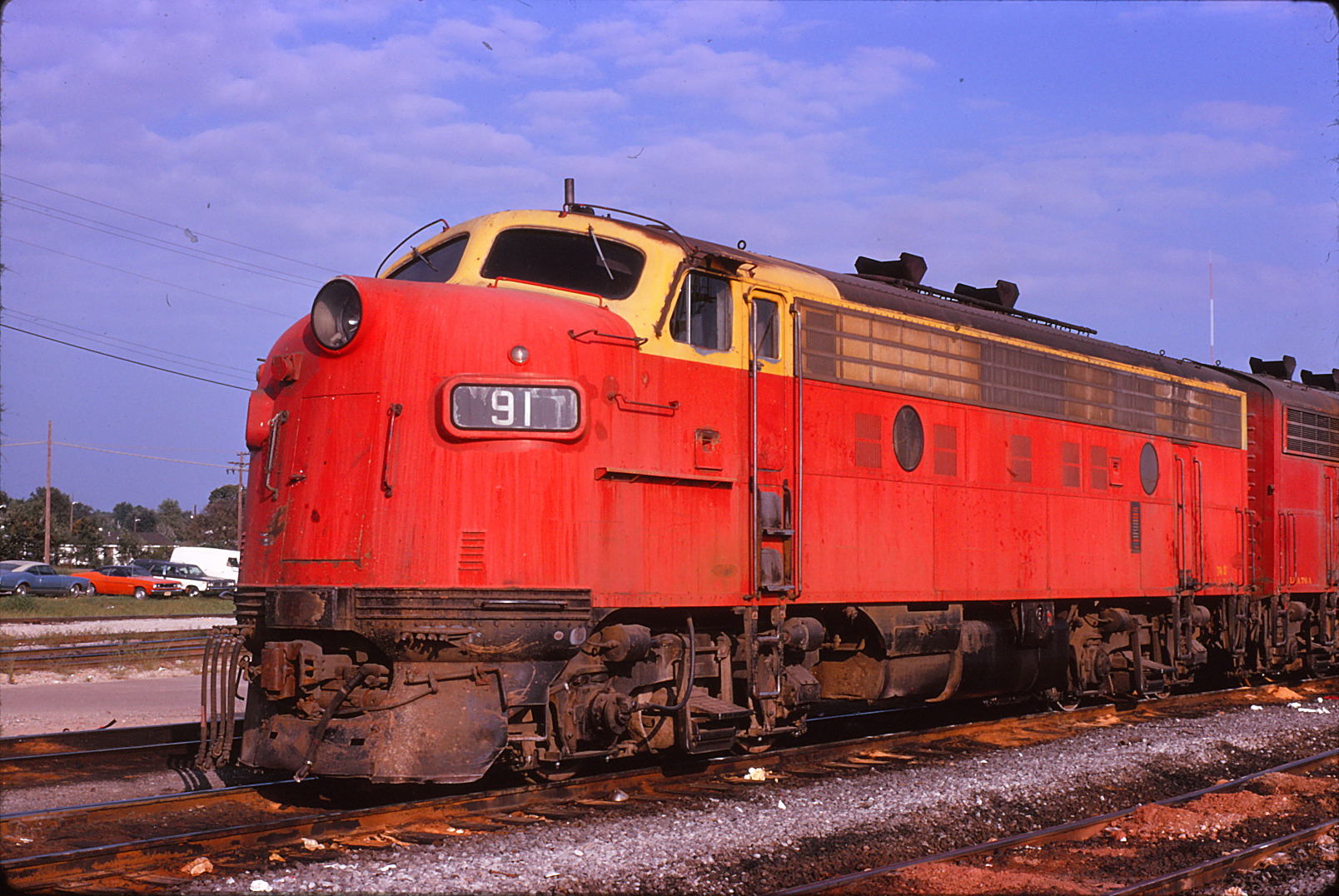 XXX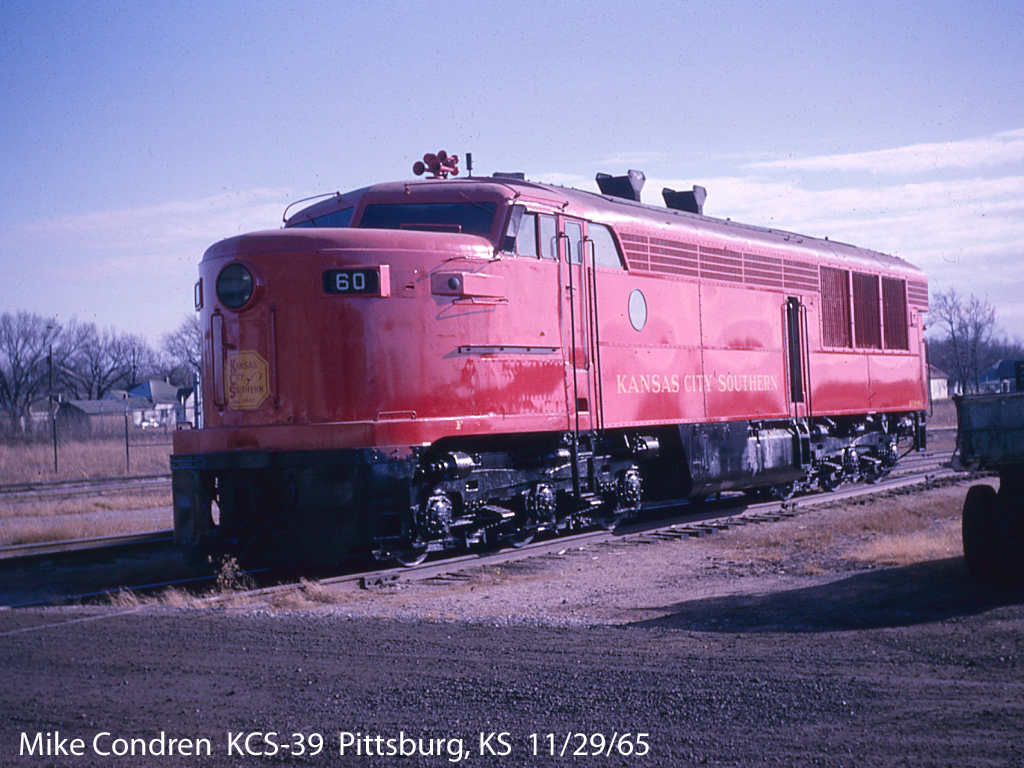 In early 1956, the KCS had two F7As rebuilt as F9As; they arrived featuring the then standard red car-body with yellow trim around the two-piece windshield and cab windows -- (KCS EMD F9A #91 photo by James Holder). The yellow trim was phased out before too long in favor of a solid red livery -- (KCS FM "Erie-built" #39 photo by Mike Condren).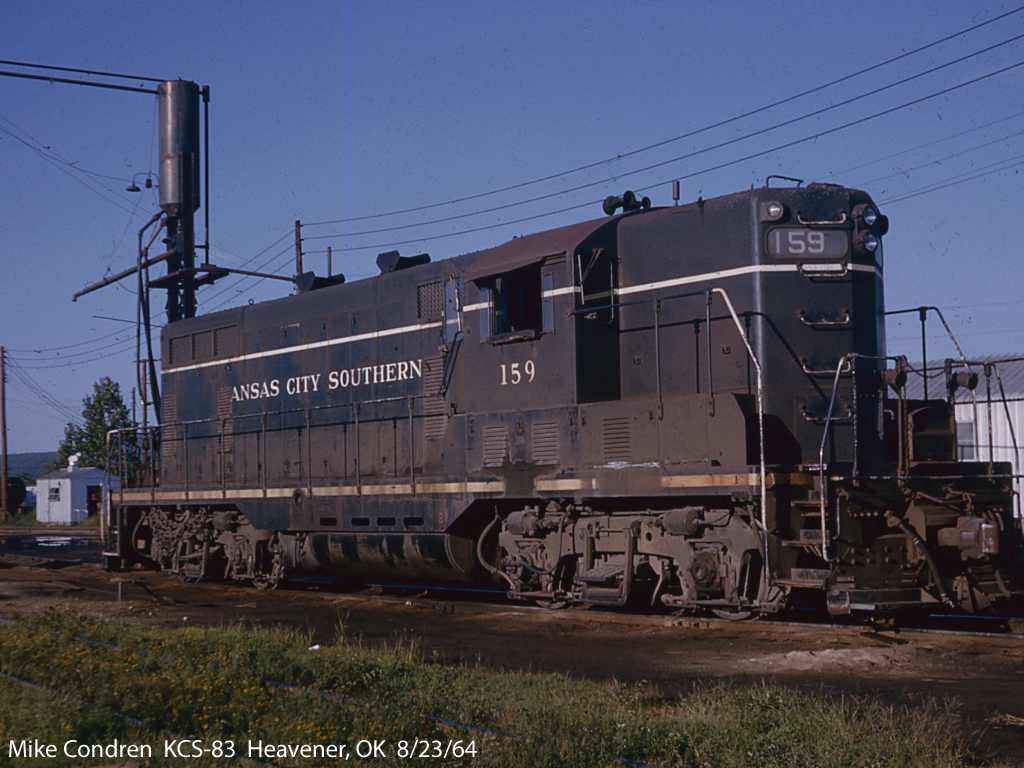 XXX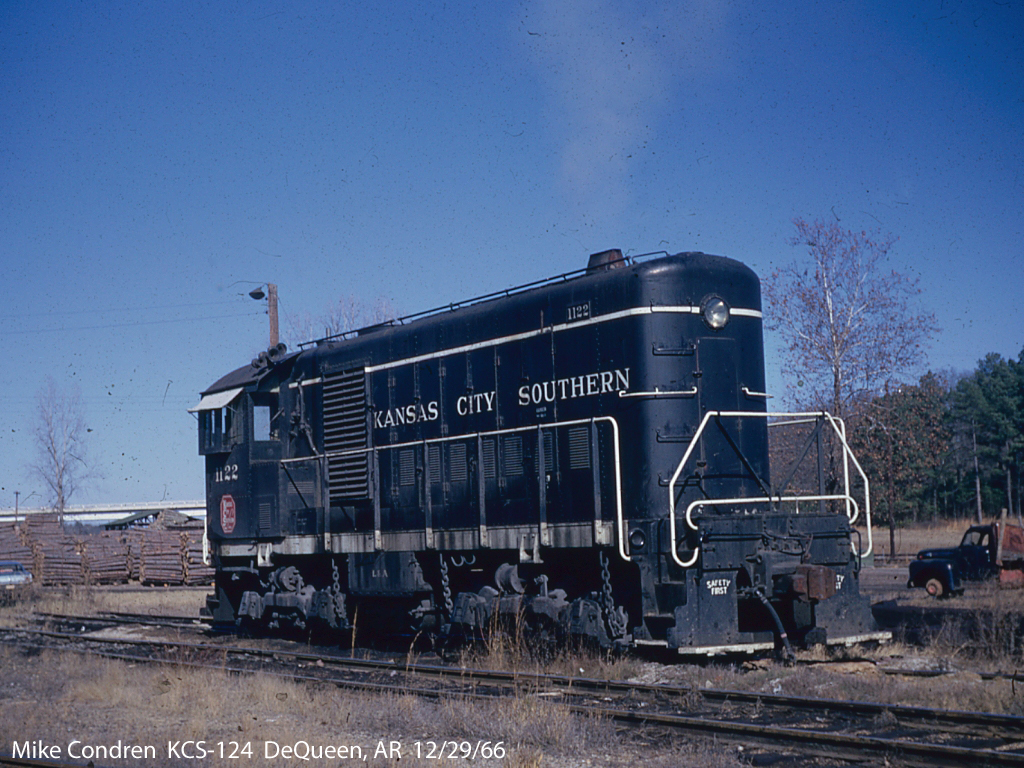 In contrast to the railroad's cab units, early road-switchers were delivered wearing a conservative black scheme with white accent striping -- (KCS EMD GP7 #159 photo by Mike Condren). The black livery, which was also worn by yard power, did not totally disappear from the railroad until 1963 or even 1964 -- (KCS Alco High Hood #1122, photo by Mike Condren).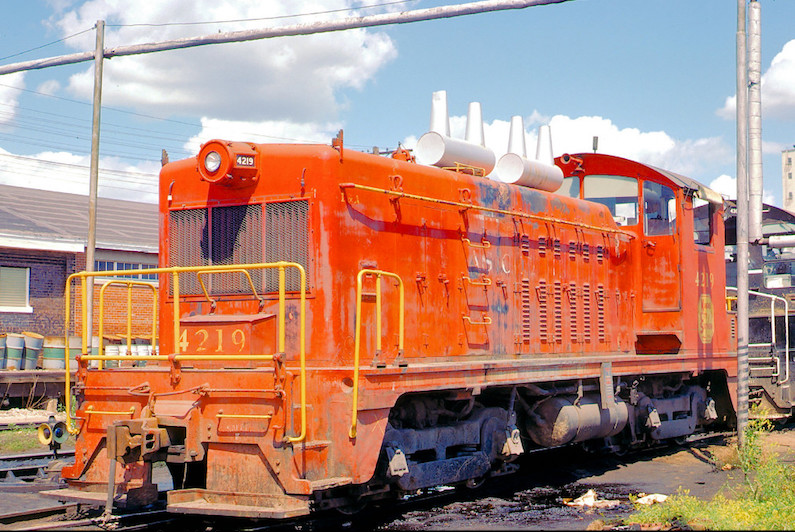 XXX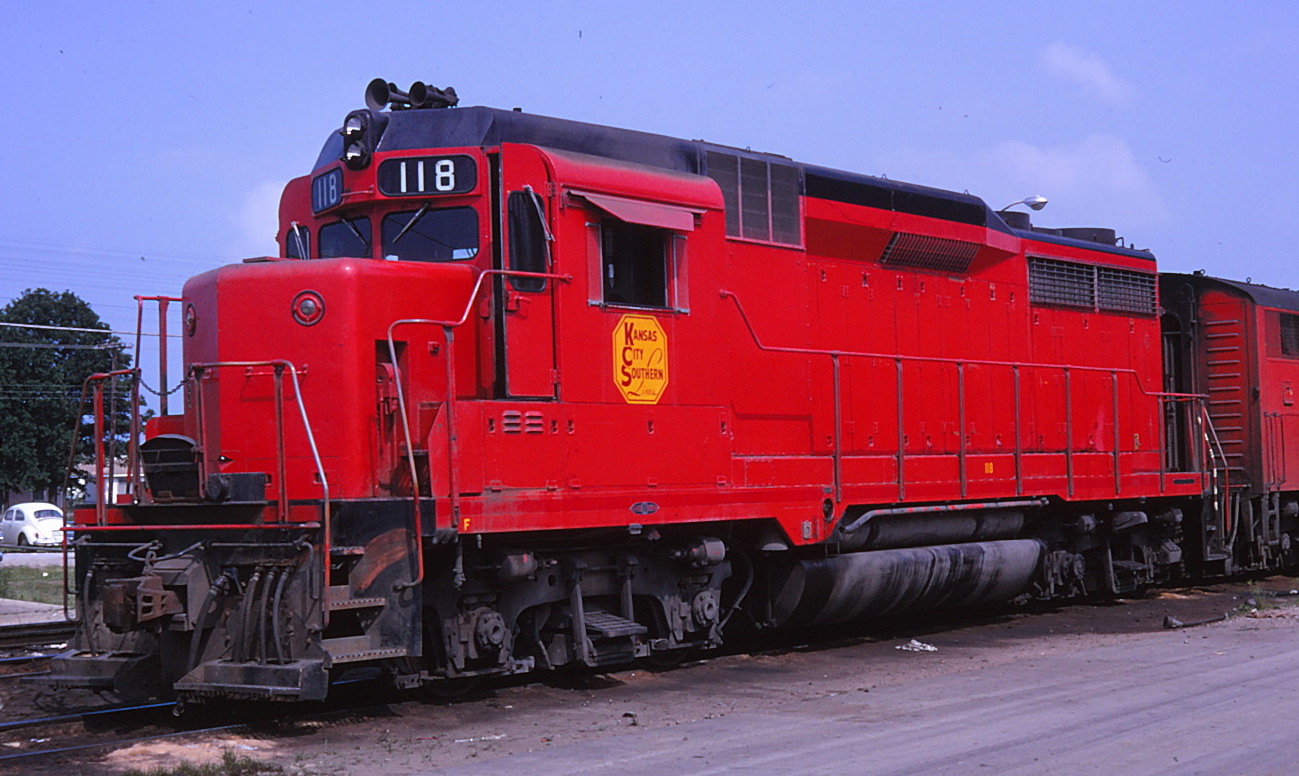 The red-dip livery became the KCS standard sometime around 1958 or 1959; it could be found on all types of power from cabs units to yard switchers -- (KCS EMD NW2 #4219, photo by Jim Wilson / Kim Piersol collection. The last new power to be delivered in a red scheme were ten GP30s of 1963; a few of the "30s" were still wearing the original paint at retirement time in 1980 -- (KCS EMD GP30 #118, photo by W.D. Caileff, jr).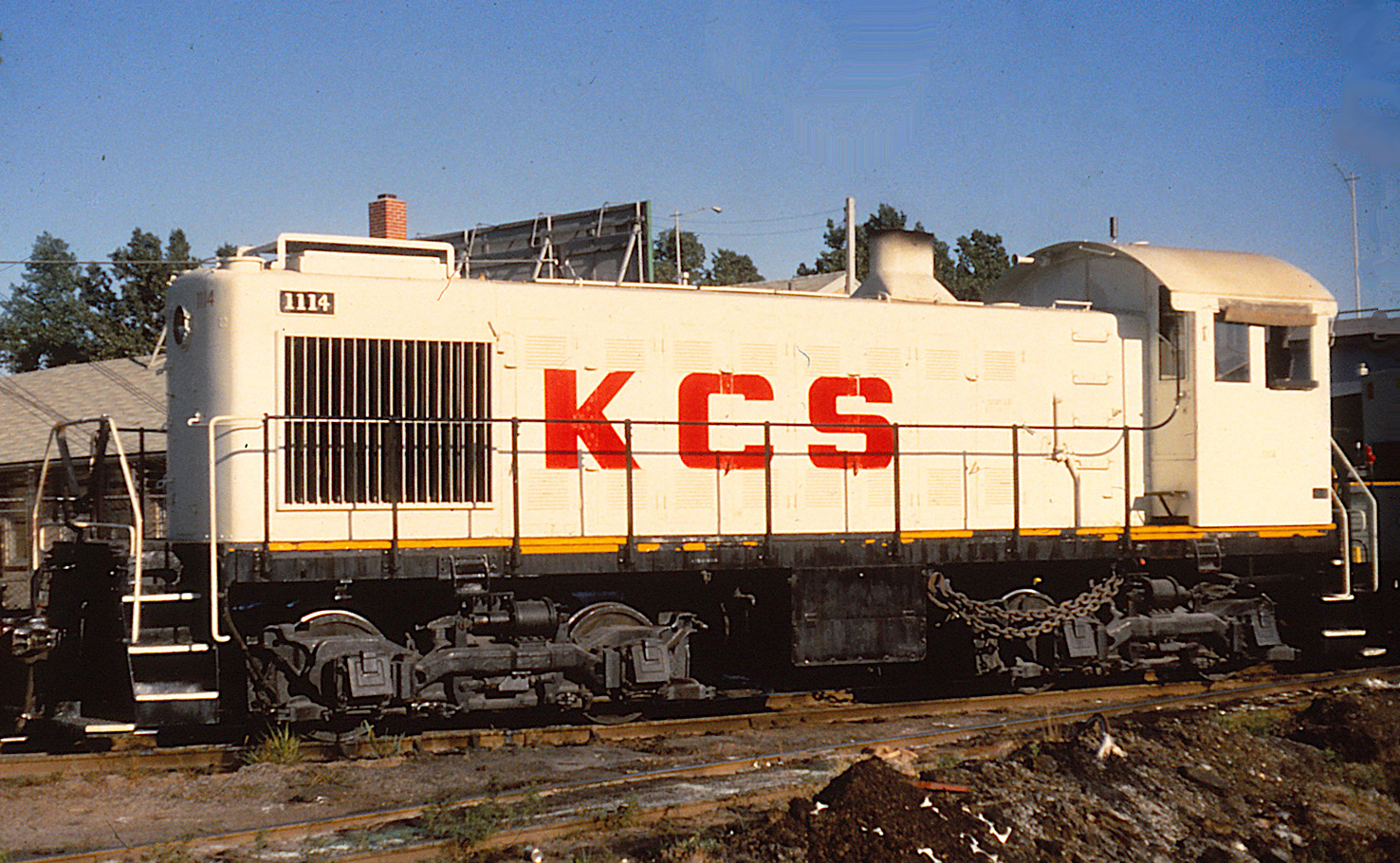 XXX
By the Summer of 1965, KCS management had tired of the dip red livery and sought a more striking image; a solid bright white with large red lettering was thought to be the answer -- (KCS's only Alco S2 #1114, photographer unknown / Michael Richmond collection). It was even worn by two E-units pressed into freight service with the demise of passeger traffic -- (KCS EMD E8A #27, photo by W.D.Caileff, jr). The last of the ghostly colored freight motors were eliminated in the early 2000s).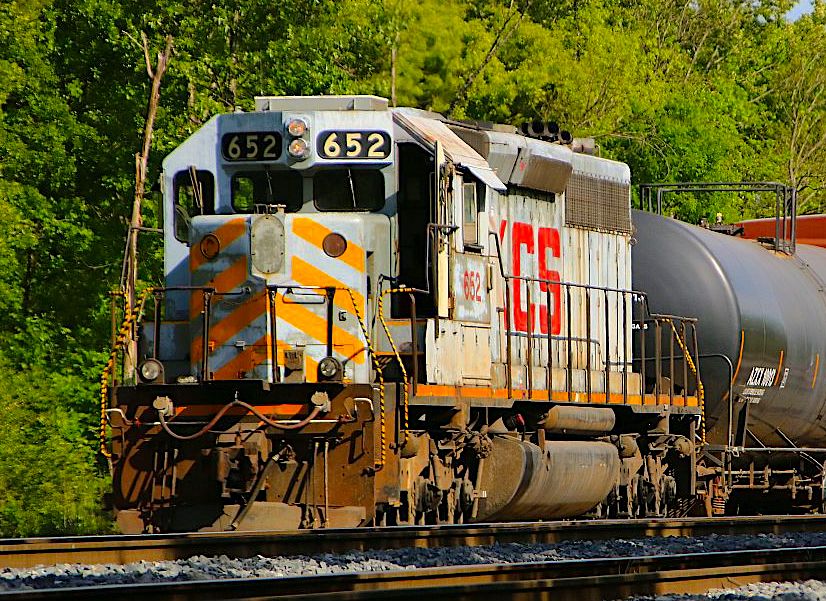 XXX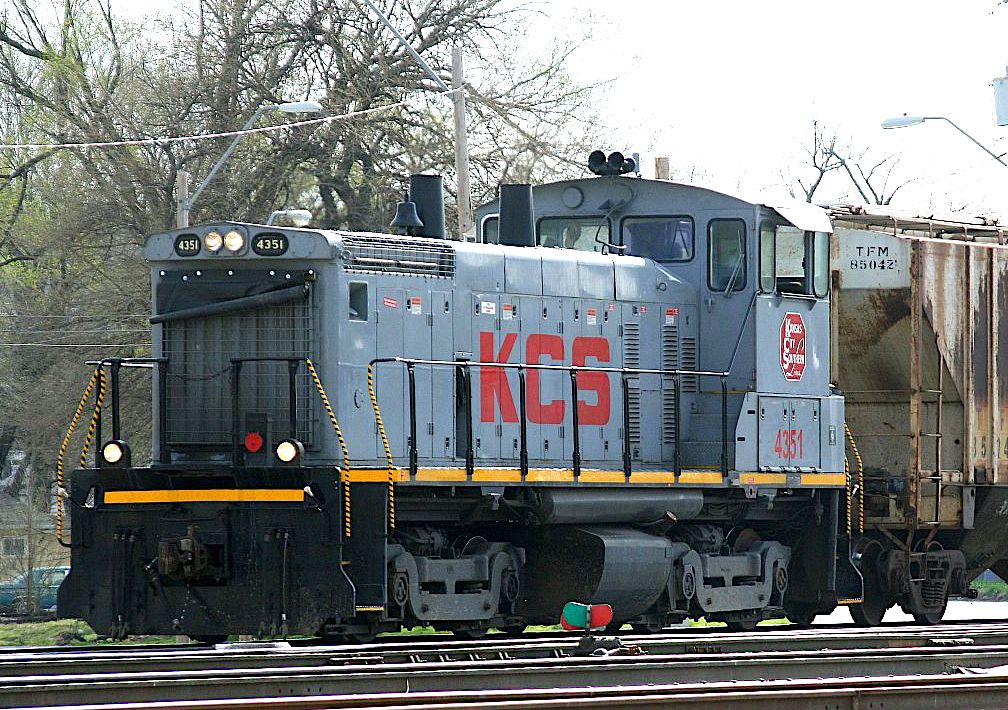 It did not take long for the white livery to lose favor and be replaced by locomotives sporting a solid grey attire with large billboard-size lettering. The first unit to model the new look was the #652 in 1988; eventually it spread to the entire KCS fleet, including yard engines -- (Both photos by Michael Richmond).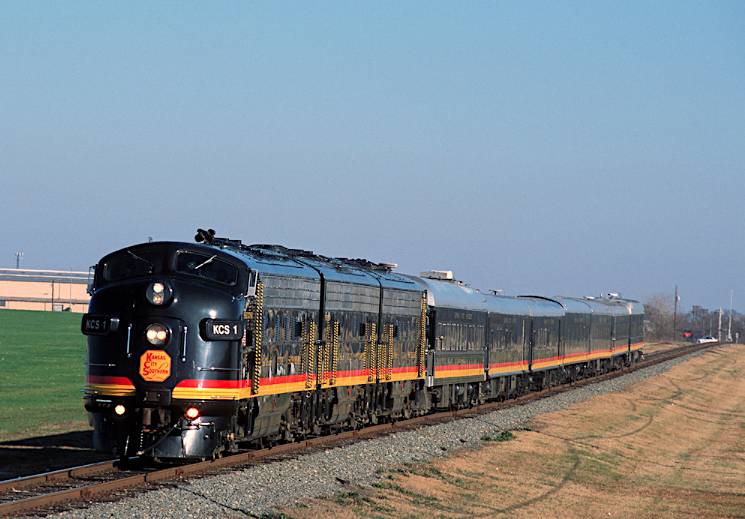 XXX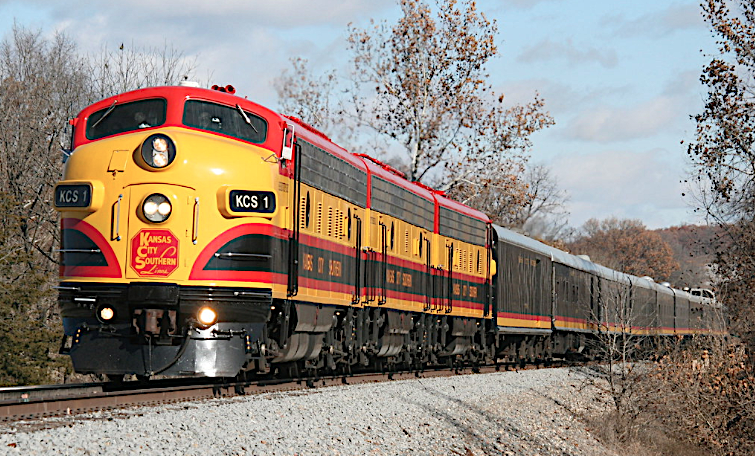 Determined to re-establish its national image, KCS took an important step in 1995 to achieve that objective; they assembled a short executive / business train painted similar to a Southern Belle consist of the 1940s -- solid brunswick green with yellow and red, car-length stripes along the bottom. A set of similarly painted F-units were rebuilt to match the classic-looking passenger cars. --(KCS Business Train, David Hawkins photo). The next step in the image revitalization process occurred in 2003 when the F-units were given the full red/yellow/brunswick green Belle treatment; they were a stunning sight. (KCS EMD FP9 #1 photo by Michael Richmond). The image restoration process was finalized in 2007 with the railroad adopting the retro-looking Belle scheme as a new corporate standard.
Notes and Reference sources: The following information comes from the May 1988 issue of The Crow, the monthly newsletter of the Kansas City Southern Historical Society, which was edited by Lowell McManus: -- NEW LOCOMOTIVE LIVERY? KCS SD40-2 652 has been repainted into the following new experimental paint scheme: The basic color is a medium gray, described by one observer as "not nearly as dark as SP's." The front of the short hood is tiled from top to bottom with yellow chevron stripes, broader than those formerly used by MoPac. The big red "KCS" lettering remains on the side of the long hood, as does the yellow stripe along the side of the frame. The trucks and fuel tank are black. The number is in red below the cab window, and the octagon herald is absent from the locomotive. The repainted unit, called The Gray Ghost by some employees, is now in regular use."

The Crow also reported in December 1988: A NEW, IMPROVED WHITE. KCSHS member Louis Marre (coauthor of Diesel Spotter's Guide Update) sends us the following astute observations on the current state of KCS color schemes: "...they are painting at a fairly steady rate, and in the current variant of the white scheme. The sharp-eyed will note that the color is changed slightly, and the painting method is much altered: now the acrylic 'pearl gray' is applied, then the red stencils, and then a clear overcoat is added, making washing much more effective. An additional carwash-type facility has been added...in Shreveport, and units are being hand washed on a regular basis at Neosho and Heavener as well. All this means that the white scheme should hold up better and look better while on the road if this whole program is followed." We have independent reports that GP38-2 4006 was painted in the experimental dark gray solely to exhaust the existing supply of the expensive gray paint. The new acrylic painting process was apparently pioneered on gray SD40-2 652, and the employees who work with it and wash it regularly in Neosho are highly impressed with its durability.

Lowell provided this additonal information. In January 1989, KCS purchased ten ex-B&M GP40-2s, which would become KCS 4012-4021. By March, they were rolling out of Mid-America Car's Kansas City paint shop in gray at the rate of about one per week. This was the first evidence of official adoption of the gray livery as the new face of the railway. The first one painted got the large KCS lettering on the side in yellow. After viewing by KCS executives, it was promptly sent back for red lettering, and the rest got red lettering. Units painted by KCS at Shreveport thereafter got gray, as did an order of ten new SD60s.

Other reference sources:
Classic American Streamliners by Mike Schafer and Joe Welsh
Erie-Builts and H20-44s by David R. Sweetland
Photo websites: Flickr.com, LocoPhotos.com, RailPictures.net, & RRpicturesarchives.net