Text and captions by Art Peterson. All photos from the Krambles-Peterson Archives
There has been a rail passenger station on the south side of Van Buren in line with LaSalle Street since October 10, 1852, when a Rock Island station opened on that site. The station on this site today (currently serving the Rock Island District of Metra ) is the fifth-generation rail passenger facility. The photos in this feature (presented in chronological order) focus on the last 30 years of passenger train operation into the fourth-generation LaSalle Street facility. That station opened in 1903 and served the New York Central, Nickel Plate and Rock Island. The Chicago & Eastern Illinois was briefly a tenant, but moved to Dearborn Street before too long.
With sights like the one above, it is easy to understand why the LaSalle Staton was so popular. In summer, with the light in the northwest quadrant, the view from Roosevelt Road could be stunning. An example is NYC S1B Niagara 6022 with Train 135, the West Side Mail in tow as it approaches northbound in this circa 1950 view. This locomotive was built at ALCO in 1945, by which time the NYC was also receiving the first 12 of its E7A/B diesels. This locomotive was retired on August 16, 1955.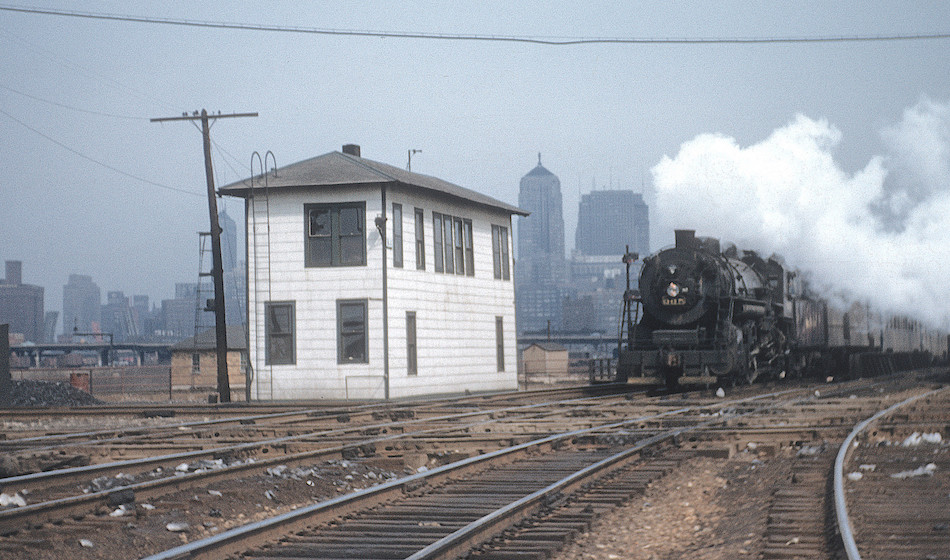 <10px>10px>
(Left photo) On July 20, 1957, the Illini Railroad Club operated a round-trip to/from Argos, IN using Nickel Plate Class H5B 2-8-2 number 965. Bert Misek photographed the train passing the 16th Street Tower. This locomotive had been built by ALCO in August 1917 as the 524. Renumbered in 1955 to clear the number slots for diesel deliveries, this locomotive finally was sold for scrap on January 31, 1962. NKP retained the locomotive on the west end of the system using it to occasionally ferry trains from LaSalle to Calumet Yard, where the PAs would be added.
(Right photo) Other than an Ingalls, what could be rarer? After a brief attempt to use the Aerotrain in longer-distance service as the Jet Rocket (which began operation on February 11, ), LWT-12 number 1 (built new for the Rock in January 1956) and the two demonstrator trains (numbers 2 and 3 which were sold to the RI in September and October 1958) migrated into suburban service. Bert Misek caught the 1 and its train laying over in April 1959. Silvis scrapped the 1 in April 1965, while the two former demonstrators were both preserved from September 1966.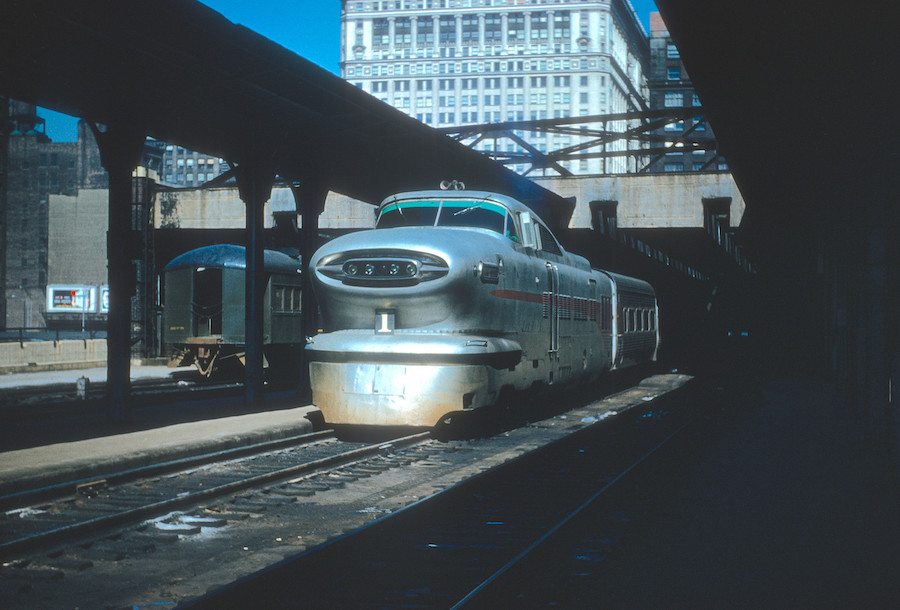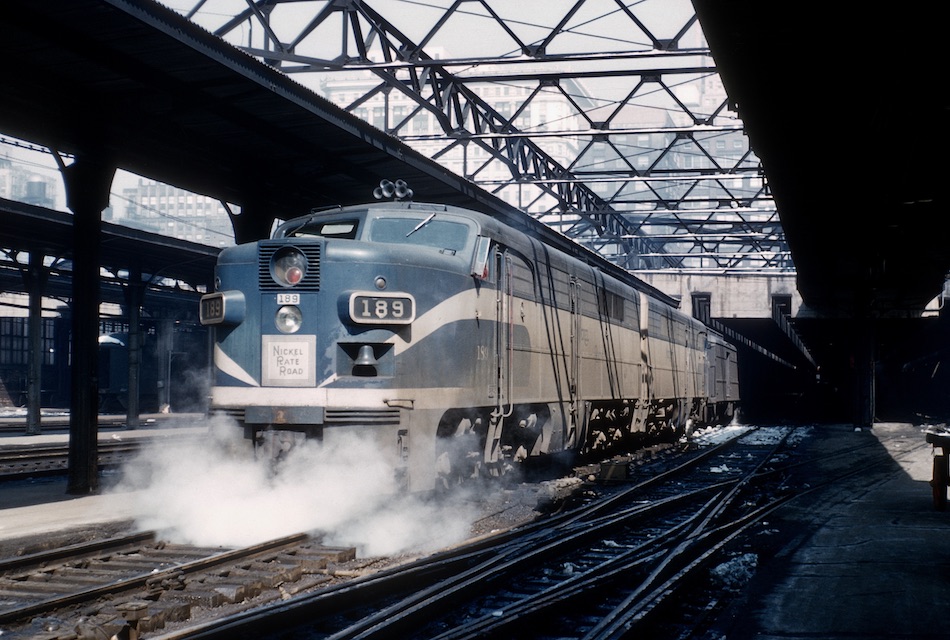 <10px>10px>
(Left photo) Those stunning Bluebirds! NKP Train 8 The New Yorker waits on its 1120 AM departure in this April 1959 view by Bert Misek. Seven of the 11 PA1s the Nickel Plate rostered were built in December 1947. The 189 was one of four units with a March 1948 build date. All 11 of them were sold to ALCO in November 1961. The 189 was one of nine leased from ALCO, with these leases extending into mid-1962.
(Right photo) Dating the view--although undated, the 4039 looks immaculate heading an Elkhart commuter run under the Roosevelt Road viaduct. The autos above the first coach include 57 and 58 Fords, while off to the right are NYC Flexi-Van trailers with a bit of road grime on them--this service had begun in 1958. The transition from the lightning stripes to the cigar band occurred around 1960, so a rough date for this image is circa 1959. Not long after this photo, NYC was still scheduling two local round trips to/from Elkhart, though the last of these commuter trains would run in 1964.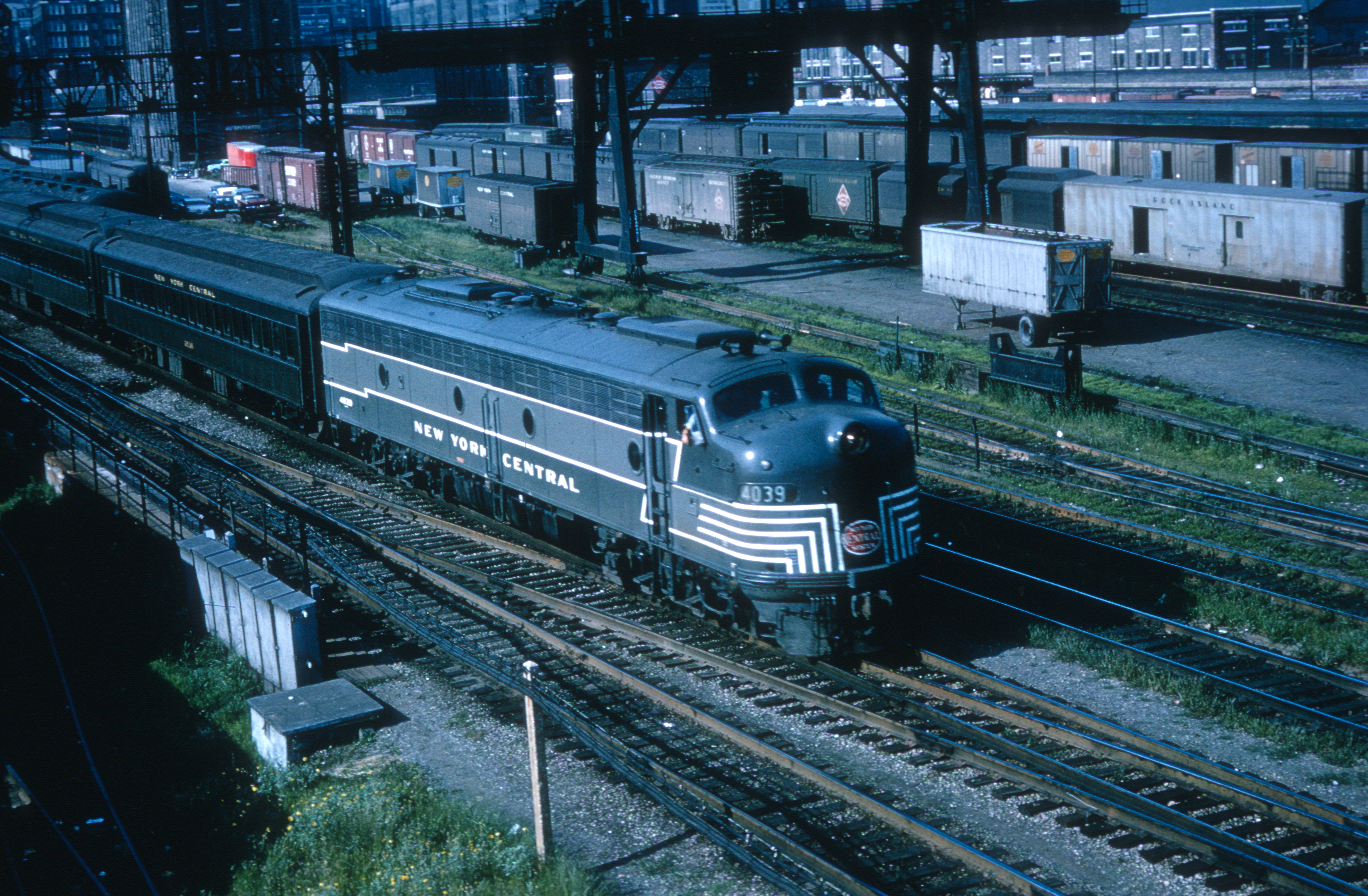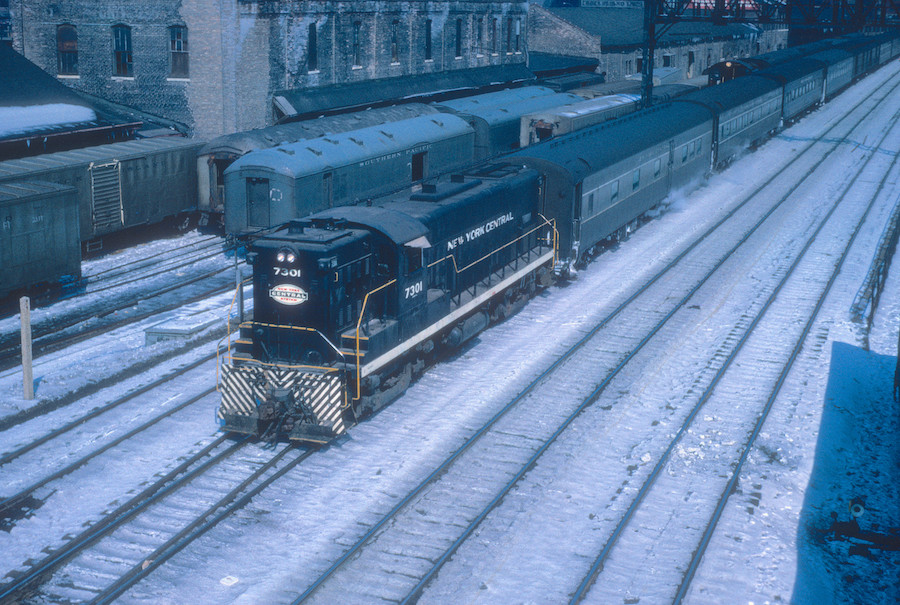 <10px>10px>
(Left photo) Exotics--re-powered NYC Baldwins and Limas could be found switching in and around LaSalle Street. In March of 1965, DRS-44-1500m 7301 has a member of the great steel fleet in tow to the coach yard. Built as NYC 8301 in July 1948, this steam generator-equipped unit was re-numbered to 7301 during 1951 and then repowered at Collinwood using an EMD 567C prime mover in 1956. The unit survived long enough to receive its pre-PC number of 5991, but was retired pre-merger in 1967.
(Right photo) Seems like old times, but its not--there was only a brief nine-month period where Penn Central continued to operate the former NYC passenger trains out of LaSalle Street, with Train 356 to Detroit being the final departure on the evening of October 26, 1968. Mail & Express Trains 5/6 continued to run out of LaSalle Street until August of 1969. A 13-year old (me!) has focused on four Es (the rear pair wearing PC colors) heading Train 6 across the diamonds with the St. Charles Airline on May 31, 1969. The 4091 was stored out of service in East Altoona by June 1971, but was not officially retired until approximately two years later.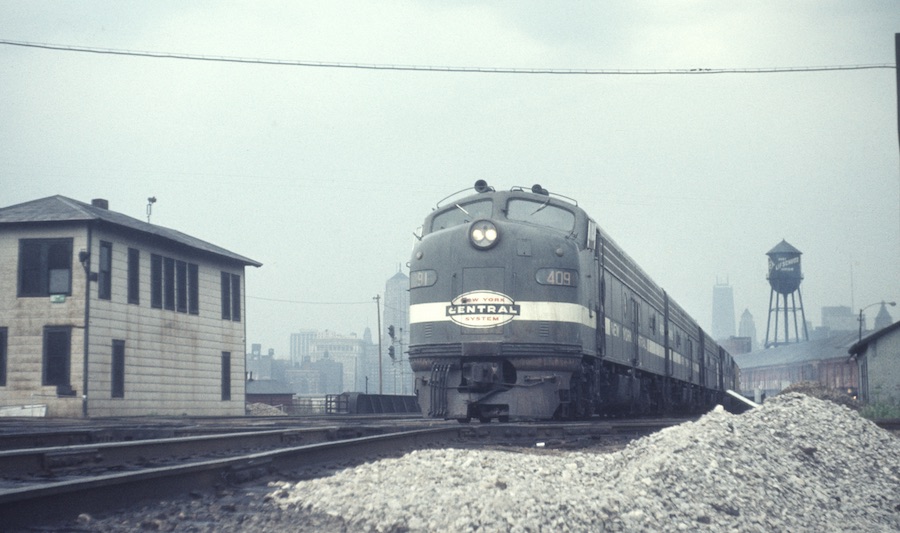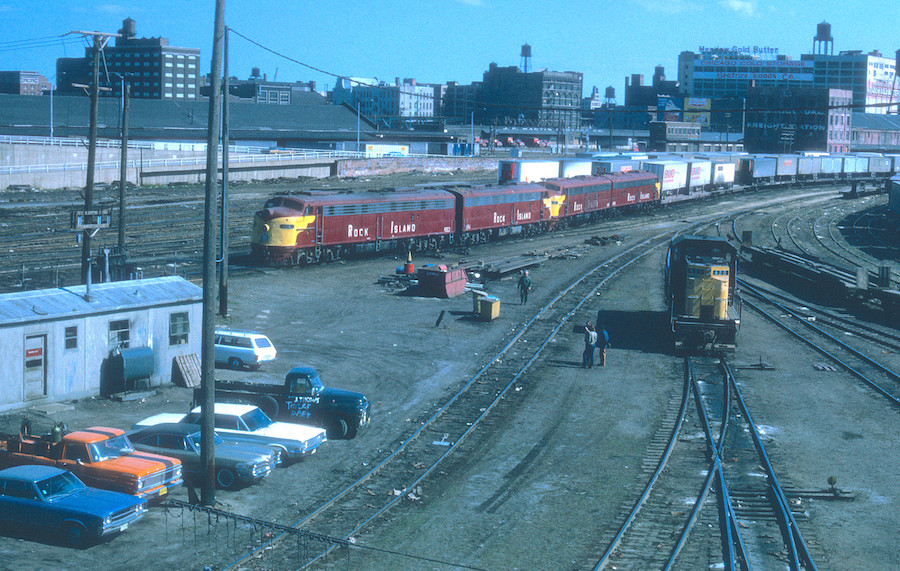 <10px>10px>
(Left photo) Another four Es (this time from the Rock Island roster) lead a piggyback train into the Roosevelt Road yard in this April 1971 shot by Richard Ward. Lead unit 653 was serial number 15200 with a March 1952 build date. A C415 and crew are ready to break-up the arriving consist. The love affair with EMC/EMD passenger cabs started from the TAs of 1937 and continued into the second-hand market, with Rock purchasing former UP E8s and E9s in 1969.
(Right photo) The former EMD demonstrator E8 952 is absolutely spotless as it pulls the Quad Cities Rocket out of Chicago on the evening of June 25, 1971. The demonstrator unit was built in August 1949 and was sold to the Rock the following April. This was a Friday night and we likely were downtown for the CERA meeting. With a 5:35 PM departure time, the Quad Cities Rocket was a convenient shot before going to dinner with other fans. Operation of the Quad Cities and Peoria Rockets ended on January 1, 1979.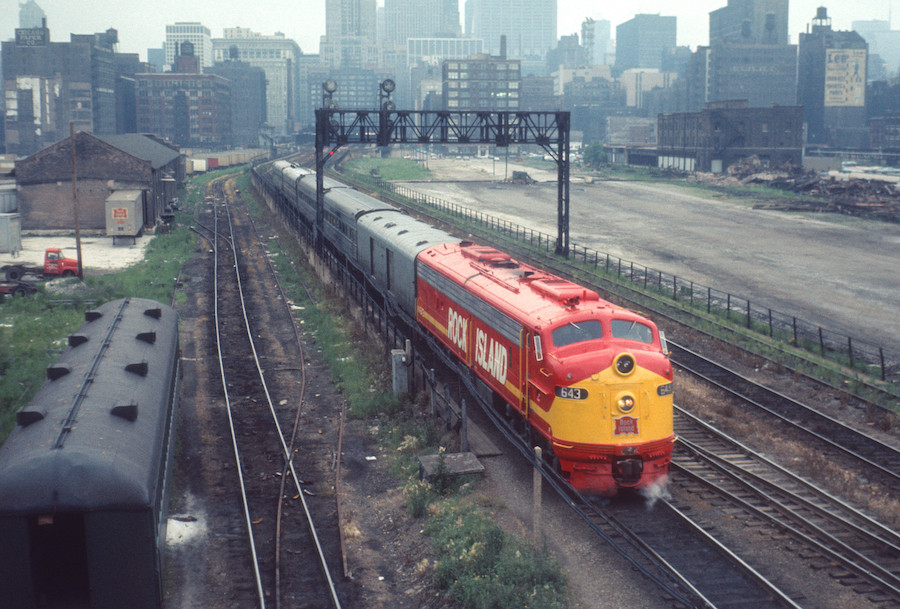 >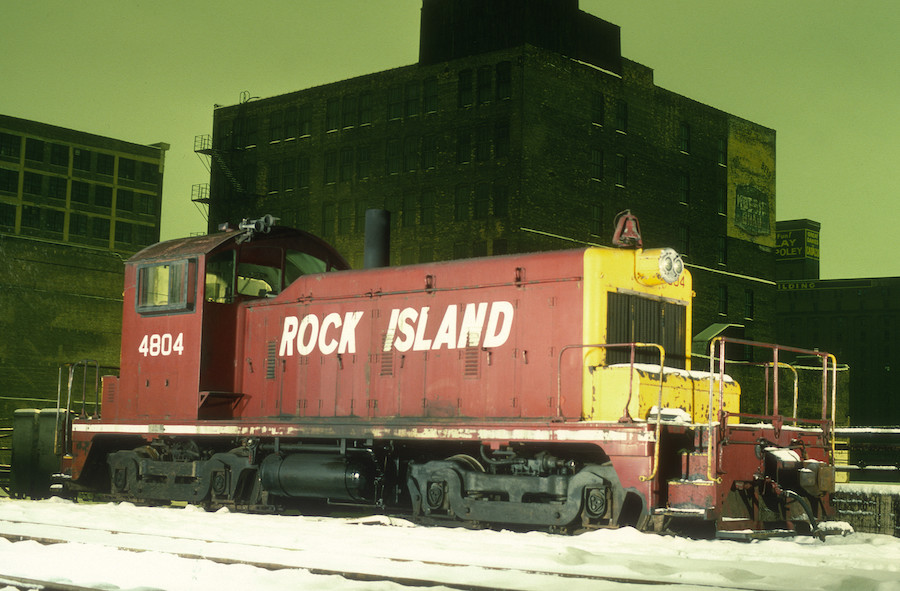 <10px>10px>
(Left photo) On its own, Rock bought eight SW1s pre-war and went back for a further 10 units post-war. Their eye for bargains led them to five ex-IC SW1s, which were acquired through Precision Engineering in December 1969. Locomotive 4804, the former IC 9025/610, survived until the end of Rock operations and was one of 216 locomotives sold to Chrome Crankshaft on February 3, 1981. This time exposure using Sylvania No. 2 bulbs was made on December 2, 1978.
Acknowledgements: X2200 South and various on-line sources were used to research the locomotives and trains appearing in this feature. In addition, Official Guides and railroad timetables were also consulted. Know Thy Niagaras by Tom Gerbracht and Rock Island Diesel Locomotives by Lou Marre were invaluable resources. I would be remiss if I did not mention the help that both Shel Lustig and Rich Stoving have given in identifying NYC trains and locations over the years. Also, Tony Koester provided details on the NKP steam trip run with locomotive 965. The PRRT&HS Chronologies also were of assistance.
New: 1 October 2023